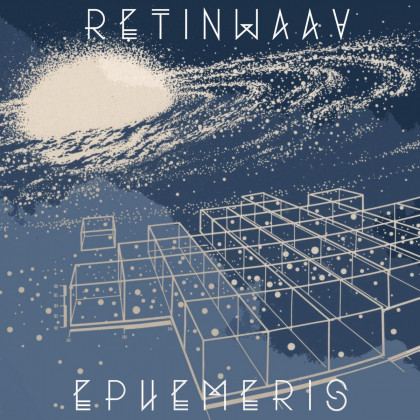 'Ephemeris' by
Retinwaav
Release date: December 17, 2015
Origin: San Diego, USA
Style: Ambient, Progressive Rock, Sci-fi
*instrumental
A lifting and crazy Sci-Fi ride
I am in love with the modern Sci-Fi progressive metal and rock, they are outrageously cool. To be honest, that is what we do here, we find music for the dreamers and Retinwaav do their best to get you there. Well, 'Ephemeris' got me hooked these days, it is groovy, melodic and the concept of the vibe is minty. I believe it is perfect for daydreaming, it has that relaxing mood, it can make you drift weightless and so… careless and then punch your teeth out. Pleasant album to listen, very eccentric, but definitely one of the best digs lately. If you love the stars, space, and you like thinking about the eternal voids of the universe, play that album now and synchronize with the art that guy has produced, brilliant.
Listen here:
'Ephemeris' is a musical revelation – it has been composed with amazing skill and feel to the music as a whole
When you combine groove, Pink Floydish fills, rock and roll, djent and then you bake it that is going to be the brownie of your life. I am absolutely sure it was doing 'Ephemeris', Retinwaav entertains the soul. As a composition, there is nothing else I can say is that it is very interesting, there are slow-burning riffs, there is some speed here and there, but it has been put with precision and it is in the place. What I feel when listening to 'Ephemeris' is Pink Floyd, but much more space and speed oriented… and finding such sound is something like a mission in my life. The clean guitars are being put in layers, that are bliss to hear, the strummed chords just add up to the atmosphere in a way that can be explained only if you play it, and I suggest you just do it.
Lovely atmosphere is all I can say about the notions that Retinwaav has achieved in me, and that is from the first listen, a lot of indie rock influences here, such a bliss. Quite frankly, it tends to be jazzy at times and that is the charming as a part of his art, of course, there are some really heavy moments, which are scattered and always surprise (the song Hiraeth is shocking, epic win).
Sound
For a home-made, the production is of very high quality, especially the bass, which sounds so mild and the slaps are just awesome. Guitars are quite extraordinary and sound great, the gain does not go high and the cleans are there most of the time. For the heavy moments and songs, all I can say is that the chord progressions, that have been used for the whole body of the composition are authentic and unique. What I love is how the dynamics have that exactly balanced power punch, but to be exact the biggest achievement from the mix in 'Ephemeris' is how clean the layers can easily be heard and most of all felt.
Overall that album is my biggest surprise this month.
Btw that is a solo DYI project, damn…
Buy the album
Recommended songs: Contour Diffuse, Hiraeth, Shear Waves
Follow Retinwaav:
You might also like
---
More from Reviews
---