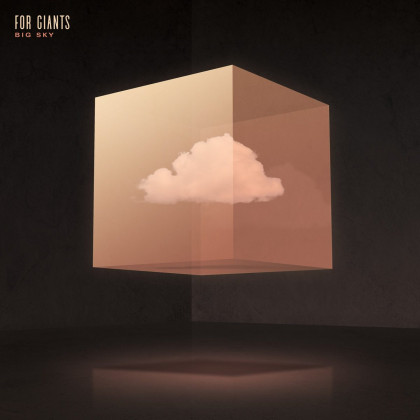 Big Sky by
For Giants
Date: September 29, 2017
Origin: USA
FFO: Erra, Sithu Aye, The Helix Nebula
A built upon the instrumental styles lately
I remember how I first stumbled upon For Giants, their previous album had a couple of hundred thousand views and their album art was intriguing. As you understand that is so important and in the modern underground, the numbers on YouTube and cool album art really mean something, in the end I found this amazing band, which I am happy to share with you. You see, some artists have more than music as a vision for their art, it is a combination between visual concepts and the music itself, it is an attitude to what you are doing and damn, what they have recorded is absolutely top-notch. I must say that Big Sky is that kind of a record I am looking forward to hearing every day when I dive to find new stuff, the vibes flow seamlessly and the production is stellar, it is uplifting. The more albums like this one that come out, the more you come to realize that djent has spread into all the possible genres out there and that… that is awesome.
Listen here:

Big Sky has a tremendous lift up
Woah, well, melodic instrumental djent is one of the big things happening for the last couple of years, if you have missed to point that out, do yourself a favor and look into the artists that create that piece of art – Intervals, Sithu Aye, Plini and actually many others. You see, it is extremely hard to create an emotion only with the instrumental part of the music, For Giants manage to transform the harmony and melody patterns into a vibe.
Following their previous successful album (will leave a player bellow), I can say that they have gotten even better at what they do. The riffs are mostly a blend of aggressive palm mutes with amazing ambient sounding layers, like in "Kintsugi", the constant groove will get you. I tend to talk about day-dream music and here you will find a lot of it, like the opening riff of "Manhattan Bridge", it takes you somewhere else.
Don't miss that musical trip, it lifts up, Big Sky is a mood fixer. A lot of clean sounding guitars pull emotional strings "The Green Field" will surely help your soul transfer itself to a place of equilibrium.
And last but not least, the sound stands as an achievement!
Their previous album:
Sound and Production:
Tight, that production has a lot of value put inside, what you can notice right away is the chugs and most importantly the bass. The guitars sound fantastic, there are a lot of harmonic lines that leave a nice flavor and are pretty lit, they've been put in the mix with excellent precision and you can clearly find something to enjoy in ever single song. Actually I will give more attention to the mix of the bass and the drums, you see, when you chug, the most important thing is the punch and the energy you output, the hit of each instrument forms an organic sound that let the groove transfer it's energy to the listener. For Giants continue to develop their sound from You Are The Universe – punchy riffs and breakdowns, the kick drum and the bass build up a blend that brings so much character, love it.
Big Sky is a continuation of For Giants' establishment on the prog instrumental scene, definitely a band to follow.
---
Eric Lowery – Guitar, Bass, Mix & Master
Earl Lee – Guitar, Bass, Drums
Special thanks to Alex Behles and Portia LaMotte
Follow For Giants:
You might also like
---
More from Reviews
---