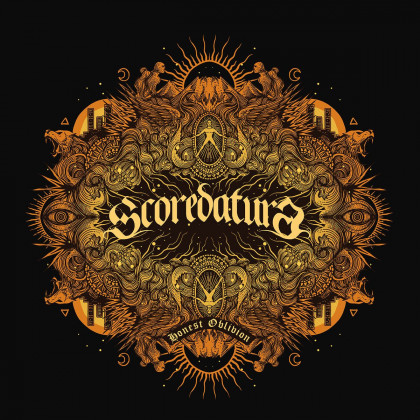 Honest Oblivion by
Scoredatura
Date: January 12, 2018
Origin: Australia
FFO: The Helix Nebula, Plini, Intervals
Interesting blend of skill
Technical and strange is how I will start this one, I'd call this a super band as it consists of some high quality musicians from different other bands. Scoredatura have produced music and in the situation they are, it is not easy to make it so it doesn't sound like showing off and stuff. I really enjoyed Honest Oblivion it is an album that didn't manage to stand out in the press releases and in the words of the fans, but really, if you like jazzy prog and djent, you have to play this one, you will dig it for sure.
Listen here:
Honest Oblivion just flows

And by that I mean it really goes and goes it actually has that strange musical balance, masterfully composed. It is instrumental, right, as you may guess, the lack of vocals forces it to have developing melodies, I really feel that it may be too much for some people, as most of it is odd polyrhythms and off-beats, but hell, it is engaging.
Actually recently instrumental prog, mainly spiced with djent has got a lot of attention, Scoredatura deserves to get in the train of the hype that new trend has already been established. The guitar solos in the songs are what stands out, as you may guess, but there are interesting other moments like the start of 'Asilon' (and the Plini solo), me personally I love when artists play with the stereo channels, combined with the rhythm, that is so damn cool.
The record features guitar solos from different guest musicians, one already mentioned, that adds up to the variety of vibes you get from each song, but not interfering with the integrity at all, which I think is the hardest part in such projects, well played, Scoredatura, well played…
Their previous album:

Sound and Production:
It is soft, the balance is amazing, but the sound doesn't stand out with anything special, something more, it is just flawless… although, you can sense how they have tried to play around with the bass and it's solo sections, where it is distorted at times, that was something that I enjoyed a lot. What I liked the most in Honest Oblivion is the overall vibe the production creates, it is mild and pleasant to listen to, good choice in the approach.
Hones Oblivion is a nice LP introduction into what Scoredatura has to offer to the musical world, it is actually a lot and I look forward to hearing more and more from their art.
---
Band Members:
Tim Firth: Drums
Peter Koopman: Guitar
Jake Howsam Lowe: Guitar (interview)
Tom Botting: Bass
Featured Soloists
Kanangra: James Muller, Jake Howsam Lowe, Peter Koopman
Always The Same: Jake Howsam Lowe, Peter Koopman
Malign In Line: Peter Koopman, Ben Hauptmann
Big Blind: Jake Howsam Lowe, Aaron Flower
Asilon: Stephen Taranto, Peter Koopman, Plini
Must Just: Carl Morgan, James Muller
Brookie Hill: Jake Howsam Lowe, Peter Koopman, Matt Smith
Nae: Carl Dewhurst, Oliver Thorpe
Honest Oblivion: Carl Morgan, Peter Koopman
Follow Scoredatura:
You might also like
---
More from Reviews
---