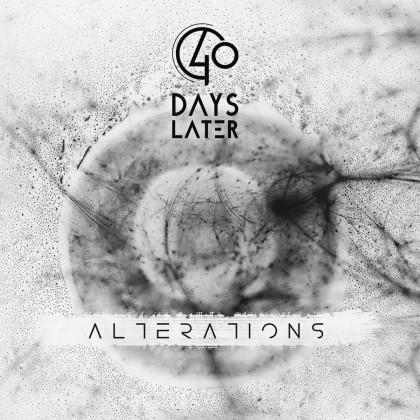 Alterations by
40 Days later
Date: October 6, 2017
Origin: Bulgaria
FFO: Tesseract, Periphery, Monuments, Killswitch Engage
A djent milestone for Bulgaria
Do you know what happens when a band you love, a band you have played gigs with finally releases their long waited album… that's right you groove your ass off! 40 Days Later always looked like they are about to do something really special and a couple of years in the making, Alterations is finally out. The dudes went through metalcore, but they didn't stay on one place with djent pushing through the air, they just grabbed it, loved it and I am sure it was quite natural that they choose to wait for their modern inspirations to give fruit… and it is so damn tasty!
Listen here

Alterations has such a natural flow
That exciting moment, when I present you a band you haven't heard of and it is awesome… love it. It is not that the local scene hasn't heard of 40 Days Later, but they are not that much familiar, which is about to change. You see, Alterations is a very high quality product, you can feel it with the way 'Shores' starts, a blissful ambient intro with acoustic sounding guitars, after which you have the choppy groove, such an amazing hook to start your album with. Don't get me wrong by saying that the album doesn't break too much new ground, it has it's inspirations, you can feel the Monuments and Periphery influence, but pioneers are pioneers and it is normal for them attributed through someone else's art (don't troll with Meshuggah on that subject, thank you).
Here are the singles from the album so far:
They've been hyping with awesome singles like 'Antigravity' (old version here), the song has been re-recorded to sound much heavier with the 8 string guitar setup, but still keeping the metalcore in it's core. It is good that the band has kept to it's roots with the Killswitch Engage vibe here and there. But with songs like 'In Depths' the band is targeting at high quality production and composition, the song is complex with a lot of harmonics and in the same time – breakdowns (I wanted more slamming breakdowns btw). Songwriting turns on the imagination for sure, there are a few such complete albums as Alterations our there at this moment, specially in a developing scene like Eastern Europe.
40 Days Later have invested quite much for the production as a whole and the determination is extremely high, an example for unsigned artists around the globe.
Sound and Production:
Not a lot of balkan artists can get to Acle Kahney (Tesseract) to get their album mastered, he surely knows how to handle the djent vibe and production. The sound is tight, a little bit overproduced, but amazingly executed. I expected more from the clean vocals, they kinda fail to blend in the mix, from technical point of view they are quite good, growls are post-hardcore/metalcorish on the other hand and are kicking hard. Ok, instrumentally everything is top-notch, guitar chugs are punchy and the fast melodic parts excite the ear. Alterations has that mild balance for the bass, it just fits and adds everywhere, it is in the very heart of the emotion 40 Days Later have to share. The clean drums add up and you quickly come to understand that the vibe is well built. What may miss is a little bit more rawness, but they have achieved the goals they had in that matter.
Alterations  is a great debut album for 40 Days Later, highly enjoyable record.
---
Composed by 40 Days Later
Produced, Edited & Mixed by Petar Bratanov & Vasko Raykov
Mastered by Acle Kahney at 4D Sounds
Follow 40 Days Later:
You might also like
---
More from Reviews
---