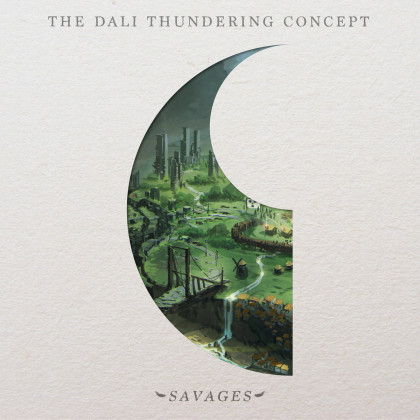 Savages by
The Dali Thundering Concept
Date: April 13, 2018
Origin: France
FFO: Meshuggah, Periphery, The Contortionist
This is really something now!
Well, this is my top album for 2018, I doubt I'd hear something that innovative, though I hope that to happen from any band in the world…. but Savages breaks all the standards apart, you can hear it by the sound blend they have produced, the vibe they create gives you chills. The last time I listened to The Dali Thundering Concept made me want to hear more from their crazy genius! We already have praised their music (review here) and for sure if you have already checked them, surely you'd know how groovy and djenty that band is. Dive in now, just do it… play it, if you can handle it, you will repeat.
Listen here:

Savages is… savage
And what I really mean is that The Dali Thundering Concept obviously doesn't give a shit if someone may get offended by what they want to say or take it with heavy heart. Specially 'The Myth Of Happiness', a killer groovy song that doesn't let you go, the main riff is a monotonous gallop, the lyrics are apocalyptic in the sense of what human culture has become.
Once you get going you will understand that after all, that is a prog album, the songs are interconnected in meaning and you have a couple of reprisals here and there. Savages is the album that got me hooked for the longest, since Perception by Breakdown Of Sanity (I think I have to write an article about them).
Much can be said also about how they write their music, it can get aggressive, it is extremely slow burning and heavy at times, you got it all. About the melody, cool stuff, the chord progressions speak of jazz-fusion influence and they blend it amazingly… harmony – showcase of guitar proficiency, great performance.
I love how they give you shivers at times 'Cassandra' is a strange track that features speech and creepy ass music in the background, really gets me. Their other single 'Utopia' features guest vocals by Pierre from Kadinja (we reviewed their last album, it is great) and the video has been produced by Igor Omodei, seriously, check out that masterpiece:
Their previous albums:
We have a review here.

Woah…

Sound and Production:
Game changing, that mix is something I really dig, it is interesting how the chugs sound. The drums, the bass, combined with those chopped guitar palm mutes is something special. The melodic parts are extremely crisp, all the layers that are present can be distinguished, it is a ride. For me Savages has the best sound in years, the production is stellar and bold, enough said. And there is some brass in one of the songs, go on you will dig it.
The Dali Thundering Concept make a bold statement with that album, Savages is my favorite album this year, the lyrics had me hooked for months and I couldn't finish that review, jeez… Merci mes amis!
---
Band Members:
Sylvain CONIER : Vocals
Léo NATALE : Guitar
Steve TREGUIER : Bass
Martin GRONNIER : Drums 
Follow The Dali Thundering Concept:
You might also like
---
More from Reviews
---