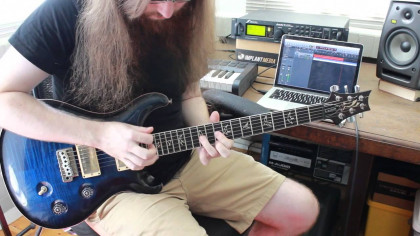 Interview with
Jake Howsam Lowe
Guitarist at:
Plini, The Helix Nebula, Scoredatura
Jake Howsam Lowe is renown guitar player in the prog realm, touring with Plini and being part of The Helix Nebula, you can guess his hands are golden, he has actually joined a new project – Scoredatura. 
DM: Would you like to introduce yourself?
Jake: I'm Jake Howsam Lowe, guitarist and composer for The Helix Nebula as well as live guitar for Plini, Scoredatura and a slew of other acts over the years.
DM: What were your early musical influences?
Jake: Early musical influences in terms of guitar playing were Led Zeppelin, ACDC, Green Day, The Offspring but I grew up in a household where artists like The Beatles, Joni Mitchell and Eric Clapton where always in rotation.
DM: How did your music taste evolve later on?
Jake: A few years into my guitar playing journey I discovered Metallica, Pantera, Dream Theater, Frank Zappa and soon after was introduced to artists like The Faceless and Born Of Osiris. This lead me down many different paths into the death metal and Prog Metal worlds. When I attended the Australian Institute of Music I got heavily into jazz and jazz fusion which then lead me into R&B, neo soul and hip hop so I've got a pretty broad range of influences at this point.
DM: What made you decide to become a musician?
Jake: Towards the end of High School I realised that all I was doing was playing guitar and it was all I wanted to do. Becoming a musician was an easy choice.
DM: You used to be a bass player in Wolfkahn, what was the experience like and what made you shift your style in such a dramatic way with later projects?
Jake: I was actually only a temporary bass player for that band. At the time I had my own band Point Below Zero which was very slightly proggy technical deathcore and I happened to be friends with the guys in Wolfkhan when they needed a fill in bass player. My move from the Point Below Zero style material to more prog oriented stuff was actually a pretty smooth one. All I did was move from a 7 string to a 6 string and incorporate more interesting and melodic harmony so it wasn't a super drastic move from my point of view.
DM: You also assisted in the production of Harvs' Curiosities, how was it to work with Harvey Shepherdson-Beck?
Jake: Harvey's great! Killer guitar playing and writes some awesome riffs. I basically helped smooth out the song writing process by helping with the drum programming and some of the song structuring. It was a fun process and he was easy to work with!


DM: The Helix Nebula's Meridian came out almost 3 years ago, what's happening with the band at the moment?
Jake: We're currently tracking our Debut full length (yeah! editor note). It's taking some time as the music is so dense but it's coming along well. The music is sounding insane and is definitely a step up from our EP in my opinion. We're hoping to have it out by late this year!
DM: You were also featured on I Built The Sky's song Stratiformis, how did this come to be?

Jake: I've been friends with Ro for quite a while now, it's not like the instrumental guitar scene in Australia is massive so it's not really a surprise. One day he asked if I wanted to do a solo and we made it happen!
DM: What is it like to tour with Plini? Is it easy to work with him?
Jake: Plini is a diva and it's a total pain to be around him, it's only the millions of dollars he's paying me that makes me stay. Nah he's great, he's one of my best friends and every moment I get to spend touring with him and the rest of the band is a Joy. I love those guys.
DM: Now, a nerdier question, what is your rig at the moment and is there a difference in gear between the different projects?

Jake: On the current Plini tours I've been using 2 guitars, an Ormsby Hypemachine 7 string and a Vimana Guitars Kepler model. Ormsby are a company from Perth Australia so it's good to keep it local and Vimana are a small company from Chile who make some amazing guitars and are some of the easiest and nicest people to work with. I highly recommend checking out both Ormsby and Vimana Guitars (Gonzalez Luthiers). I'm using the Atomic Amplifire for tones and a Line 6 G70 wireless. Pretty simple rig but it does the job! For local shows (playing in bands like The Helix Nebula or Scoredatura) I'll often use my PRS Custom 24 but I generally use either Amplifire or Axe FX live.
Links:
Ormsbry Guitars
Vimana Guitars
DM: And finally, what does the future hold for you, what are your plans and do you have any new ideas going on now?
Jake: About to head off on a European Tour with Plini, when I'm back I'll be focusing on finishing The Helix Nebula Album, playing a show or two with Scoredatura, and then when I have time trying to record 3 or 4 solo releases that I have planned.
Follow the projects he is in: Plini, The Helix Nebula, Scoredatura
You might also like
---
More from Interviews
---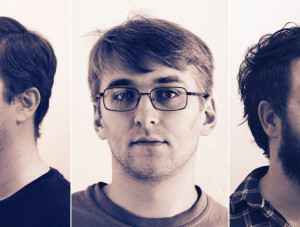 553
Triad by Groundburst Origin: IrelandThe Irish lads I am about to present have been around for quite some time now, …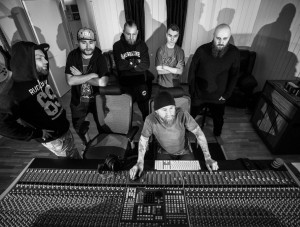 479
Interview with Ninja SyndromRapcore-djent band from Poland, Ninja Syndrom combine an amount of styles in their music. They have released …