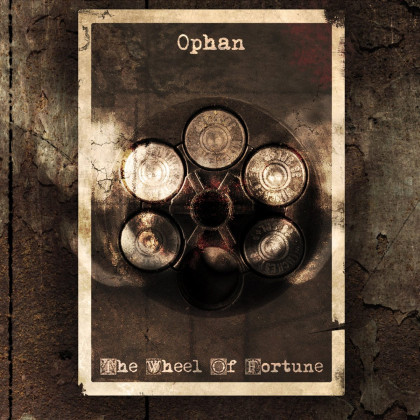 Dedicated to Trayan Trayanov & Dimitar Gentschev
The Wheel Of Fortune by
Ophan
Date: April 03, 2017
Origin: Bulgaria
Style: Djent, Progressive, Death Metal
Definitely an interesting one
Small scene can really push artists into creating something of high quality. Ophan are a Bulgarian band and as you may guess, here the things aren't so expansive in the prog genres as it is in the west, but the guys have done it and they have done it quite well. That has a good explanation, the determination to bring something new, to proove a point, it is lovely to see it grow. The Wheel Of Fortune is a solid performance, it is raw and has the chugs, never short of punch, there are a lot of melodic lines.
For the comment section: What do you think is the potential for modern prog bands in Eastern Europe?
Listen here:

The Wheel Of Fortune has that creepy grip on you
The Toolish start of "Denial" will pave your path into the journey crafted by Ophan, from there on it is a punchy album with chromatic goodness, that will make you headbang. Those displased accent riffs are always reminding of Meshuggah, "Anger" is definitely getting there,  amazing riffs and surely interesing to the ear. I think that record djent, but not exactly, the influence of the Swedish Colossi is something I can always praise, that shit is hard to compose and play.
The more you listen to it, the more surprises you will find, the layering is deep and the piano lines are pleasant to listen to, "Bargaining" reminds me ot Snow Patrol (Just a reference, guys). So, speaking about ambience, give "Void" a couple of plays, that song is definitely a creepy experience. Emotionally, the impact is huge, the personal feelings are present, this is art.
Nothing short of awesome, the vocals are more Death Metal style, there are a couple of cleans, that are well recorded and performed, "Depression" is a good demosntration. Btw, I love the Pink Floydish beginning of "Acceptance", it is just awesome, that transition from blues to death is absolutely exciting. About the production, it is impressive…
Sound and Production :
This one of the albums that gets the djenty guitar sound of Meshuggah, the influence is deep, nothing wrong about that, that love is completely understandable. For the scale of the production, that product is stellar, I am personally impressed, after all, it was produced by phyX and I am not surprised after all. Extremely clean and dirty sounding guitars (that is how you control the raw guitar sound), the crisp sound is going along with the expressing drums and the bass is there in the body, well put, there are a couple of slaps, that just kill it. The Wheel Of Fortune has special character, you can hear it in the layers, there is so much to be heard in the depts of the mix, grab some good headphones to experience it at full…
Damn Ophan have done it, good sound and compositions, the Balkan prog scene is moving forward and such bands make sure that is happening.
Engineering, Mixing, Mastering, Producing: Constantine "phyX" Gentschev (check him out here)
MIG 7 Studio | www.mig7studio.com
Photography: Sławomir Wiśniewski, Robert Steckiewicz
Follow Ophan
You might also like
---
More from Reviews
---