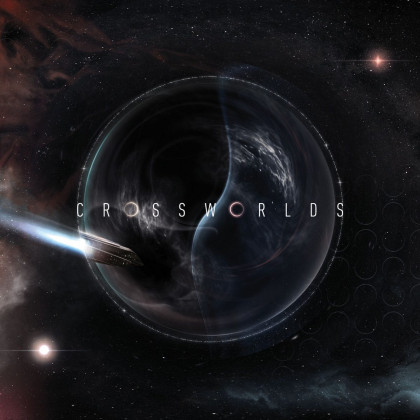 Crossworlds by
Buy Jupiter
Date: October 3, 2017
Origin: France
Modern metalcore that djents with class
Underground bands rock these days, Buy Jupiter is from the Lyon scene and as we know it is a far ahead going environment, we've had a review for their previous EP Departure (article here) and we were totally blown away. Crossworlds is a conceptual continuation of the story, it sounds dark, at times even darker. The dudes go on exploring the rhythms and keep with their technical hardcore-metalcore sound. That stuff djents, but keeps a distance from the djent these days, I must say it has a lot of Parkway Drive, mixed with some Architects and the production is raw, but still quite awesome, go and listen to it.
Listen here:

Crossworlds excites the senses
Buy Jupiter as a band tends to create music that is aggressive, but once the ambient moments kick, you feel drifting in the void, the start of 'Monolith' is a post-rock goodie I am rewinding quite a lot, while you are listening to it, you know some heavy shit is going to kick in (and it does).
They are building up from what they left us with in Departure, I really enjoy the Tool like abstractions in 'Drift', followed by a tech-death like riff, that begins after a well put build-up. The construct of each song is well balanced, as I said about the build-ups, Buy Jupiter surely know how to use them, awesome transitions between the moments. Usually the riffs feel like fast breakdowns, that are followed by rich acoustic ambient atmosphere, then the aggression kicks again, as you can understand, it is a crazy ride.
You cannot disagree that metalcore needs that kind of work to be put in it, we all know it is a genre in decline, but it can still get refreshed by modern prog and djent and Crossworlds is the much needed change, the slow breakdowns come at times when they are least expected, love that. About the vocals, they are harsh and heavy sounding, emotional and the diction is very good. This is a very interesting album all-together, the tempos go up and down, the vibe is changing as well, it is optimistic at times, but yet, Buy Jupiter tend to hit you with the "things are not so bright, mate, don't fall asleep" message and that is something I look forward to seeing from every band.
Sound and Production:
Raw and yet clean sounding, that is the best way do describe it. Specially the guitars, they are full of punch, mixed with the bass that is really clean in the mix. Speaking about bass, Buy Jupiter really emphasize on that instrument, the some natural harmonic riffs that really sound great can be found. Drums are in a very orthodox setup as a sound, they are there, can be heard and the performance is stellar. Vocals have not progressed that much from their previous EP, but in Crossworlds you can notice a better work with the sound, they are clearer and that is why they have been put a little bit back in the mix, a couple of decibels down, but still, the punch is there.
Crossworlds was anticipated with great expectations, all met, exceeded for sure, Buy Jupiter really do go on a higher level with that record… oh yes, they are in the making of new music, stay tuned with them.
---
Follow Buy Jupiter:
You might also like
---
More from Reviews
---