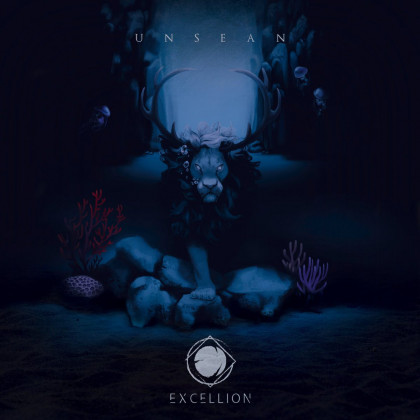 Unsean by
Excellion
Release Date: August 6, 2016
Origin: Mexico
Style: Djent, Progressive Metal, Metalcore
A review by Nick Stevens – www.prog-sphere.com
A nice fusion of styles
Mexico has been on the map lately with a number of great metal releases. Excellion, hailing from the capital Mexico City, is joining the group with the release of their new, fourth EP titled Unsean. The quartet has been active for eight years now, and after three fairly good EP's, it's time to shift things further.
Listen here:
'Unsean' grooves and has a lot of melody.
It can be said that Unsean is mostly based around the metalcore sound, but in the same time it draws influences from other genres such progressive metal and mathcore. Drums and vocals are very specific for the metalcore segment of the band's sound, and it runs throughout the release until the closing song "Unsean Pt. II: The Heart of the Sapphire." Guitars, however, are more on the prog metal / djent side.
Lyrics on Unsean may look shallow, but it doesn't mean any harm to the EP overall, because it's obvious that they are written from the heart and express writers' feelings enough. Since the point of music is to show how you feel, I don't find this to be an issue.
Back to the songs the EP brings, "Unsean Pt. II: The Heart of the Sapphire" completely changes the face of the release. It is a slower piece with a Floyd-styled guitar solo at the beginning, and opposite to the other tracks off of the EP, this one has mostly clean vocals. This tune has different influences comparing to other tracks, what adds needed variety to the sound.
Excellion continue to grab forward with Unsean and it's the matter of time until they break out the ocean.
Sound and Production:
Achieving such complex blend of layers is nice to hear, the sound is crunchy and raw, but of quality. Harsh sounding low tuning guitars fill the atmosphere and add up to the vibe. The melodic lines that run through the whole record are crisp, some cleans here and there as well, but a pure bliss to hear. What you will like are the solos, Excellion have put a lot of effort here, the levels and mix there are amazing. Vocals are superbly recorded as well, a lot of clean singing that has been produced quite nice, Unsean features growls, but they are used as moment accents, well put as well. Much needed to be mentioned is that the drum work stands out, the toms sound very clear and get attention, well done.
The production is good, it may have some very minor flaws like some lack of clarity at moments, but the sound has a very authentic vibe and that doesn't take away the joy from the record, quite the opposite,Unsean is a fun ride.
Overall – good effort, one of the really promising bands out there, energetic, full of life, technically prolific and their composing skills are top notch.
Mixed and Mastered in – Versed Audio by Luke Martin
Track List:
Unsean Pt. I: In Search of Infinity

07:45

Unlucky Charms ft. Fernando of Joliette 05:30
The Courier 05:04
Diablo Jr ft. Jose Macario of Arcadia Libre 03:33
Unsean Pt. II: The Heart of The Sapphire 06:13
Follow Excellion:
You might also like
---
More from Reviews
---