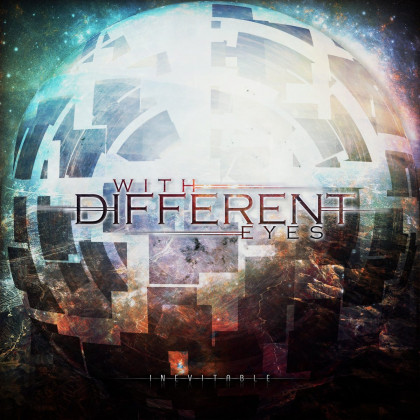 Inevitable by
With Different Eyes
Release Date: April 30, 2016
Origin: Poland
Style: Djent, Groove, Ambient
*instrumental
Get your grooves on
When I hear something that groovy and in the same time executed with that technical precision, I am in awe. Talent really has no boundaries of country, this project is from Poland and With Different Eyes showcases some really great quality in composition and production. Inevitable might not open new ground, it is one of the coolest records so far this year, it features amazing melody and djenty aggressive chops that will most certainly make you move. Sci-fi sounding Djent bands emerge just like that, but some are more special, this is one of those.
Listen here:
'Ineviatble' has chilling moments, it stands out.
Look now, with such production and compositions skills, artists like With Different Eyes will change your prospective of where to look at if you want to find good metal music. What I find extraordinary here is the scope with which the stuff has been created, there is no small play here, the production is stellar, absolutely clean and the industrial elements just crush. Speaking of djent and progressive, we have to appreciate the technological advancements we are experiencing right now. Some guy somewhere can create that sound and Inevitable is rich in different production conceptions that can be heard throughout the record – techno, heavy metal, intense groovy djent, ambient etc. but really using them to compose a record with such flair is astonishing.
In the base of the compositions is the intense vibe that djent music brings. A lot of clean guitars on the back, but when the chops hit, the rhythm is flowing, apart from that, the breakdowns are not that present. The recent transformation of the breakdowns into riffs, that headbang is one of the coolest things that is happening to modern metal, right on.
Did I mention the melody, as most of the album is groovy riffs, backed with melodic patterns, it is to be noted that there are some solos as well – tremendously nice composed, nice stuff.
Sound and Production:
I am excited by that sound, it is clean, the guitars sound extremely crisp and the bass is well balanced. Drums sound quite well and every single hit is well put in the mix. What is found to be the best are the backing clean guitars in the ambient layers, well put and well executed, in combinations with the djent chops you got a very full bodied sound that sounds tight. Industrial elements that deliver from techno and dubstep sound ridiculously good and really expand the palette of the vibe here, this really adds up to the Sci-fi notion you can get.
Inevitable is a very well produced album that exceeds in all directions and With Different Eyes manages to amaze.
Recommended songs: Can't pick any!
[two_first]
Track List:
Origin

01:07

Waves Of Eternity

04:21

In Motion

04:10

Demons Of The Past

03:45

Yautja

03:44

Resurrection

04:38

Invasion

01:49

Design The Future (feat. Waldemar Jędruszak)

04:32

Reminiscence

03:49

The Distance

03:49

Spaceless

04:42

Inevitable

02:14
[/two_first][two_second]
Credits:
Music written by Artur Jasiorski
Mixed & mastered by Waldemar Jędruszak at Nailbomb Audio
Produced by Waldemar Jędruszak & Artur Jasiorski
Synth & electronics by Waldemar Jędruszak & Artur Jasiorski
Guitar tracks recorded by Artur Jasiorski
Bass & drum programming by Artur Jasiorski
Guest guitar solo on track 8 by Waldemar Jędruszak
Piano on track 10 by Waldemar Jędruszak
Additional production on tracks 3, 6, 10 by Marcin Barna
Album artwork layout & design by Artur Jasiorski
[/two_second]
Follow With Different Eyes:
You might also like
---
More from Reviews
---