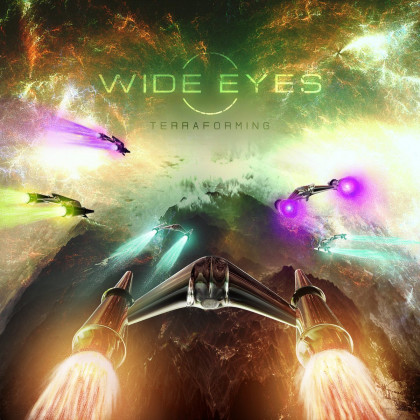 Terraforming by
Wide Eyes
Release: February 17, 2015
Origin: USA
Recorded: Central 8 Studios (Akron, Ohio)
Style: Djent, Groove.
* instrumental
One ride among the stars
For the lovers of Sci-Fi, Wide Eyes will make all your musical dreams come true. The trio from Ohio has delivered Terraforming – one technical beast that has the most unique vibe you will ever experience with your ears. That album grooves, djents, it is heavenly melodic and the riffs are literally out of this world. Give it a listen and get hurled among the stars in one of the best instrumental albums of 2015. A fun ride, which will make you smile, such a beautiful texture of sound shouldn't be missed.
Check the album:
Terraforming makes you break the replay button
When you are just looking for something amazing, most of the time you end up saying "Nah", "Well that was cool", after the first 10-15 minutes of that record I am sure you will just jump with the words "Where the hell were you hiding from me?!". The compositions are so well bond that you can easily forget you are listening to a new song, transitions and riffs flow into each other like a calm river in the mountain, the songs go so seamlessly… and then groove the hell out of your soul, brilliant musicianship. The number of instrumental techniques, which Wide Eyes have used just goes through the roof – shreds, grooves, breakdowns and the drum work is accurate, that for a long time I couldn't believe such sound extortion can be made by human hand. Each hit matches the dynamic signature in all the moments, delivering a very full-bodied sound.
Sound
String instruments have been recorded with very high level of technical skill and the sound is crisp, well compressed and clear. What I love most of the sound as mentioned above – how the drums have been put in the mix, the sound was produced flawlessly. The whole production is just fantastic.
Favorite songs: Escape Velocity, Sea of Serenity
Follow Wide Eyes:
You might also like
---
More from Reviews
---