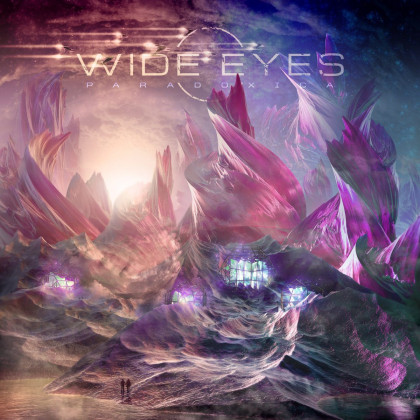 Paradoxica by
Wide Eyes
Date: June 16, 2017
Origin: USA
Recorded: Central 8 Studios (Akron, Ohio)
Space is the new music romance
Personally, I am a fan of Wide Eyes, actually I started the website with the determination to tell the world about their previous album (article here). I will not hide that I was overly hyped for that album and Paradoxica doesn't disappoint a bit. The band has kept it's unique style and has added new stuff to the way they sound, most notably the use of more aggressive and slow burning breakdowns and riffs, but I have to say the melody is still a daydreamers' reason to live, it is that good. By the way I thought this is an EP, as there are only 5 songs… long ones, amazing approach.
Listen here:
Paradoxica builds upon the band's style
When artists produce good music as a default and you thank to be able to appreciate their art, after an astonishing album some years later you hear they are about to release something new… you become skeptical if they are going to keep up to the level they have reached before. Ladies and gentlemen, Wide Eyes want to prove they are some of the finest talents out there with Paradoxica they cement themselves as a factor in the djent or prog scene.
Jumpy emotion with dark space vibe and positive harmonics, it is good the band keeps to what they have always managed to do best – make you feel good by playing their records. The darker it gets at times, the more you groove and the ambiance that follows each riff is a lift up. The cascading arpeggio riffs like in "Hollow Rain" show extreme technique, not to mention the slow burning beginning of that, this time Wide Eyes has put more electronic elements and you can clearly notice more post-rock influence in their music.
It is interesting how some artists say so much only with instrumental, even the groovy djent chops sound like speech. Actually a lot of people deny djent to be a genre, I tend to agree, but the nature of the groove in "Vertigo" is a statement heavy prog is something that defines a whole evolutionary step in the development of music. This time they do not emphasize so hard on the solos, they've been set to add up to the whole body of the album.
Ah yes, they released a remastered version of their first full-length album Volume:

Sound and Production:
I was expecting an amazing production, no surprises here, that is some of the best mixing and mastering you can hear. Paradoxica features such a punch and yet the guitars sit in the sound in a mild way, the combination between the lows of the bass and the chugs is awesome. Drums… the kick is an example how it should sound in instrumental metal, actually the balance they are trying to achieve is like all is some ambient vibe around you, no matter how aggressive, technical or fast a song is. The record features some electronica, Wide Eyes really explore the digital ground, but the way they make it sound makes them sound unique and utterly cool, unlike some bands that add synths and the moment it starts sounding like cheap synth pop, the production here is absolutely top notch.
Paradoxica is simply a superb record, if you love djent and instrumental progressive, Wide Eyes must be placed in your bookmarks.
---
Follow Wide Eyes:
You might also like
---
More from Reviews
---