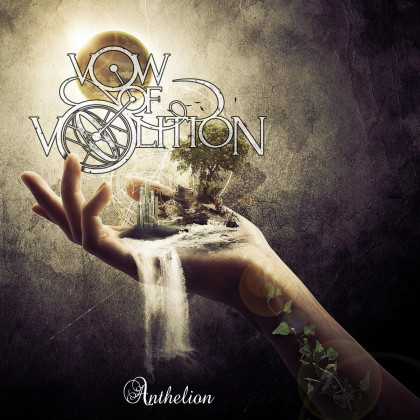 Anthelion by
Vow Of Volition
Date: February 11, 2017
Origin: USA
Style: Djent, Progressive, Instrumental, Death Metal
High in diversity and vibe
When I first found Vow Of Volition, I actually started laughing as they are producing the "How to write like" videos in YouTube (Check it here), hilarious and still awesome stuff. That album was highly anticipated and Anthelion is no disappoint, groovy and technical, the record is of top quality. This bombardment of riffs is so well structured, that you can hardly get enough of it, dive on, a lot to dig in…
Listen here:

Anthelion has the punch and the melody
Well it kicks you from the beginning, "Promise" is one hell of a start of the groove fiesta you are about to experience throughout the album. Vow Of Volition have put so many interesting melodic patterns, boredom is not an option, all the riffs are technical, some chaoscore with a lot of interval chords, you can just check "Reinvention" (replay allert). The tonal flow consists of heavy breakdowns and a lot of death metal gallops. I'd say that the lack of vocals is well substituted by saturated lines, I'd hear a couple of growls, though. Btw "Anthelion" is one of the interesting album breaks I have heard recently, sick medieval sounding 2 minutes song, that throws you somewhere, blissful.
All bands with such high talent bring a lot of needless technique riffs, but here all seems to be well balanced, Anthelion is a good record, it features an awesome mix of punch and melody – "Vengeance" is a good example of how a breakdown sounding song with guitar ambiance can sound just awesome. With grooves like in "Celestial Seas" you will be looking forward to the band for sure.
Sound and Production :
Well compressed sound that doesn't overlap, I think the mids are a little bit higher than usual, but that has been well controlled. They have been looking for a Meshuggah sounding djent chugs, and they've got them, bold decision, sounds fantastic. There is a distinct character of the sound and their approach is more natural, so that gives a very unique feeling. As to the melodic guitars, they are hiding their lows a bit, that makes everything more loud and aggressive. Drums together with the bass sound very clear, making the body of the sound awesomely heavy, heavy breathing experience.
Vow Of Volition have demonstrated they know how to handle sound, their ideas are fresh and interesting. I anticipated Anthelion and I must say, that for a first full record, the result is astonishing.
Follow Vow Of Volition
You might also like
---
More from Reviews
---