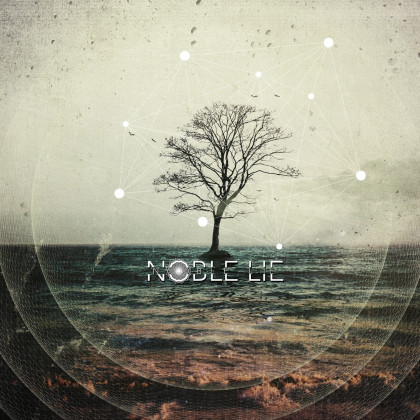 *Self titled by
Noble Lie
Release Date: July 27, 2016
Origin: USA
Style: Metalcore, Djent, Progressive Metal
Chuggy melodic goodness
This may be one of the most intense short EPs out there, Noble Lie deliver an extreme amount of music in just 16-17 minutes, that will literally make you want for more. The Self Titled EP they've put out gives us melody and chugs that make you groove. Some Egyptian motives are welcome here, good production and a lot of creativity. Noble Lie are definitely on the race to become one of the really renown bands, don't be shy and play that record.
Listen here:
Noble Lie doesn't break new ground, but their songwriting is remarkable.
The EP starts with a chuggy hit and melodic guitars, some growls, but you cannot really know what to expect from that start, as the creativity here is quite expansive. When I first started listening to djent I knew it was going to spread like disease and a lot of artists would start trying to reach Monuments and Born Of Osiris, but a Noble Lie demonstrate that those obscure artists can actually build up and exceed all expectations for quality. What will grab you here is the emotion and vibe – melodic, powerful, angry and sincere.
The growth of the genre is exponential and there you go here, you've got brilliantly composed songs that feature amazing transitions between the components and the progressions are masterfully picked, the dynamics of each verse and chorus are programmed to create a full body and complete feeling. Noble Lie are using extensive use of clean and growly vocals, and those quarter of a hour songs all together just flow and you are on repeat, my question is: why only 4 songs… Cascading and interesting riffs with a lot of ambient vibe, pleasure to listen to. I would only comment the a little bit out of character and unique feel here, but for a debut, that here is more than enough.
Sound and Production:
Good mix overall, the guitars are crisp and a lot of different sound approach has been used here, the melodic scale runs are fun to listen to, nice and punchy chugs as well. As to the drum work and bass, I can feel like the guitars a few clicks too high, but that is ok, enjoyable vibe from the master as a whole. The vocals on the other hands sound quite good, growls and cleans are there and tend to be pure metalcorish, in combination with the ambient layers, a lot of body has been achieved.
Nice debut from Noble Lie , the EP leaves an incomplete taste that definitely makes you look forward to a future release.
Recommended songs: Just listen to all of them

Follow Noble Lie:
You might also like
---
More from Reviews
---