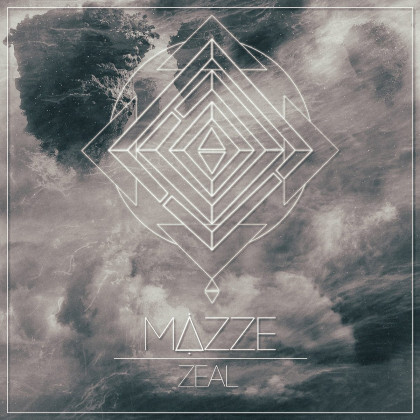 Zeal by
Mazze
Date: March 7, 2017
Origin: Brazil
Modern vibe that sucks you in
I love instrumental albums with djent, this concept is developing rapidly in the last few years. Here we have a record, that one takes more than one listen, you can literally break the rewind button. Mazze are from Brazil, home of some of the best metal bands in the past, I've been anticipating something to happen in that region in the world, related to djent (I probably have to look harder for records from South America). Well Zeal is a debut album and it goes far ahead it's counterparts in the heavy prog, the band has created something I personally regard as special – it has melody, aggression, not to mention how impressive it was produced, yet. I am actually excited to present you that album, I am having a blast for a couple of days already with Zeal, now it is your time to dig it, enjoy.
Listen here:

Zeal will introduce you into a world where everything is possible
This is not the first time I will talk about daydreaming with music, if a song makes me do that, I put that certain band in a very special list of mine, in Zeal almost every song takes you away. It gives you a pleasant ambient start with "The Enhasa", where the piano is touching your soul, and then the chugs, actually almost every song has that lovely vibe of mellow melody and then it punches you with djenty chops. Unlike other bands, that try to bring aggression inside the mixture just for the sport of having a punch, Mazze tend to stay aside from that practice, but "Heartless" and "Zeal" kick hard and show what they are capable in those terms, quite the Veil Of Maya riffs.
Actually as a vibe the band is trying to position itself among Plini, Sithu Aye and the new Intervals, and let me be honest, they exceed in some moments, they bring something fresh to the new Jazz-Fusion proggy djenty goodness and impress, "Skyeater" is a good example of a freak jazzy mint taste. The solos are stellar, emotional and they are present in almost every song, the creativity is a wow and the technical display is just notch . Ok, with the genre being so oversaturated, you may find a lot of references to big names in the prog, but Mazze have managed to just do it the way they see it, impressive. Oh did i say that the production is…
Sound and Production:
… Awesome! All the balance that has been achieved is a bliss. You can listen to the guitar parts again and again and as they are powerful, they do not burn into your ear, everything blends and the texture is mellow, but that is not for the sake of the punch. Mazze don't hide the bass in the mix, it stands out, but fills the drums as well. Something I love to listen to are the ambient moments with that amazing piano, good call on that one. The biggest surprise for me is the arrangement of the last song – "The Serenity", but that is a surpise I will leave for you to taste… A sound that I must congratulate.
Well I think I have a new favorite band actually, I am looking forward to what Mazze will release in the future, Zeal is a tremendous debut.
Mixed by Juninho Silva
Reamped/Mastered by Marcelo Braga (Vitalism, Aeon Audio)
Guest solo on "Heartless" by Andre Casagrande
Guest solo on "Dreamwalker" by Husa Toledo
All music writed, performed by Mazze
Follow Mazze:
You might also like
---
More from Reviews
---