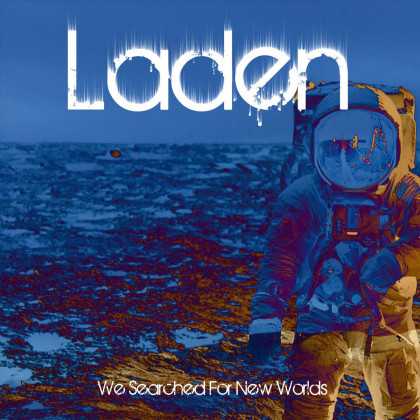 'We Searched For New Worlds' by
Laden
Release date: March 30, 2016
Origin: USA
Style: Post-Metal, Progressive Rock, Sci-Fi
*instrumental
A dark and gloomy space ride
It is exciting how much the thought about space can inspire art such as music. Laden's debut album – 'We Searched For New Worlds' (new one coming soon) will get you somewhere where you've been wanting to be, but that is definitely the most positive and optimistic adventurous place of your dreams. I must say there is something awesome about the darkness of the void (love that) and here we can find a Prometheus (movie by Ridley Scot) vibe – dark, intense and in the same time sucking you in instantly. This is a solo project, so don't expect Laden to deliver you a million dollar production, but actually I like the sound more like that, a little bit 80s feel with a lot of body.
Listen here:
'We Searched For New Worlds' makes you turn on the tv and watch some Sci-Fi
As a matter of fact that website was inspired by Sci-Fi rock and metal music, by the small artists that create awesome art by dreaming and literally not putting any boundaries for their art. It is true that music is made for the fans, but come on, the good one is made by musicians that surely don't care about anyone's opinion and here is where Laden comes. First the production is small, but the vibe is just astonishing, it may get a little bit repetitive at times, but it will never bore you, the music is slow burning and may even give you shivers.
On the other hand the compositions are well crafted and the ideas behind some moments are boldly cool. 'We Searched For New Worlds' features some sound engineering marvels as 'Hypoxia' depicting some really grim fate in the far end of the universe, which contrasts with some other songs that are just punchy as hell. Seems like the small solo projects are catching up with the musical giants and that is the best thing that can happen to the musical industry these days, we need that.
Sound and last words
The production is lacking that really clean sound that everybody is crying for these days (aah Periphery's sound and so on) but the feeling that it creates is unique. Guitars are crunchy and dirty, but create the full body of the sound, the bass is a little bit not easy to be heard. Overall the mix is not great, I think Laden will work on that improvement, although in combination with the music and compositions, the effect is amazing.
Laden brought me back to the days of Home World, the open space and the intense atmosphere that is out there. Definitely a good album, 'We Searched For New Worlds' is well worth your time and money.
Follow Laden:
You might also like
---
More from Reviews
---