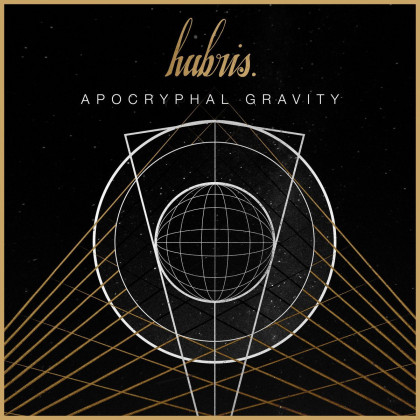 Apocryphal Gravity by
Hubris.
Date: April 3, 2017
Origin: Switzerland
Post-rock is the way to get there…
… Where you won't want to leave, you see, Hubris. is a young band, founded in 2014, yet from what you will hear here, there is no way to say that Apocryphal Gravity is not a complete piece of art. You know that Djentmag is about the awesome music that you won't see and hear from the big media, this album is such, that it puts all the confidence in the big scene to question, the composition, the production is just quite good. Ambient goodness with amazing riffs and progressions, a must listen.
Listen here:

Apocryphal Gravity is something I'd always listen to, no matter the mood
And that is what usually happens when the music is good, it suits the daily flow of the life, it may be boring, grey, but such music even helps… and it is not some pop shit, but still it is masterfully composed. Hubris. is an awesome musical project, you can see we write about post-rock these days, we have a good reason, that style is part of the modern musical revolution we are experiencing, it has such an unique vibe in it. When you listen through it, if you don't feel better, more positive, more determined in your life and yet more relaxed than before… well damn, then.
Apocyphal Gravity has a mastery of composition and recording techniques "Deimos To Phobos" is a two part piece that has extremely pleasant harmonics to listen to. Actually that album is very good for doing some work, it has that disengaging lift up, it actually makes you feel good. I can't argue that it gets repetitive at times, but that is not exactly so, it progresses, the vibe changes, some chord progressions are going forward, I can congratulate that effort, it is awesome.
Sound and Production:
That record sounds more than good, the production is very clear, what made me impression, aside from the amazingly mild sounding guitars are the drums, they have a gentle punch and are put very well in the mix. Hubris. have done it, the channel of communication they open with the listener is of high quality, their message comes to us, it is easier to grasp, to chew, to dig and that is how bands from the underground scene must strive to do.
Apocryphal Gravity is solid and Hubris. deliver with quality and fresh ideas.
Follow Hubris.:
You might also like
---
More from Reviews
---