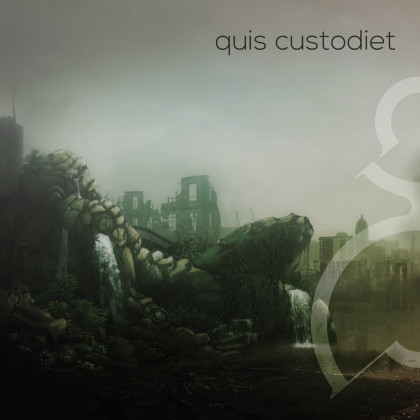 Quis Custodiet by
Gnosis
Release date: May 13, 2016
Origin: Spain
Recorded in: DIY and Marcos Cabrera
Style: Djent, Groove Metal
*instrumental
Groovy, head-banging and emotional Spanish djent
When I saw that this band is Spanish, I was sure that listening to their album was going to be a fun ride. Djent bands from Spain are a little hard to find, but Gnosis got my attention with the first 30 seconds of Quis Custodiet. Very groovy and hits hard, not to mention the record is self-produced and the sound is a really high achievement. If you like hardcore and you love the conception behind the djent as a way of music should be, here you will groove and enjoy quite melodic lines. Composing with a lot of flare, this is a band that is going to achieve something for sure.
Check the album:
Quis Custodiet is bad-ass and melodic constant breakdown… Gnosis delivers
Hardcore does make you head bang and melodic death delivers aggressive melodic lines, bond with djent, here is the groove and actually, I shook my self, writing the review. Technically, the band is very prolific, they have created awesome rhythm patterns, but the transitions do the difference, I love how the lyrical passages create a very intense ambient layer. All the songs are full of fast palm-muted riffs, mixed with some good old-school hardcore down strokes, an EP that is a breakdown itself (yep, it punches teeth out). Speaking of the music itself, all that comes to mind is dark, gloomy, but yet with very energetic atmosphere. Gnosis shared that the concept in Quis Custodiet is:
it talks about human as the precursor of all the problems of this planet
Well played and God Damn true! As mentioned multiple times by me, that this is a theme in music that is vital to this world, as it is the thing that we are left to accept if we are to change the world for the better. People in art are much concentrated on that topic lately and for a good reason.
Sound
Bass centred, I love that, it is good and in the same time sound super cool. That well-compressed sound was achieved at home… AT HOME, so in your face "I have no money for studio sessions". Guitar work like that shouldn't be left unnoticed and not to mention the vibe it creates is awesome, a lot of hardcore, deathcore and come on, you know it – djent cuts. For DIY the sound is amazing, keep it up, Gnosis.
Favourite songs: Persona, The Fall of the Apex
Follow Gnosis:
You might also like
---
More from Reviews
---