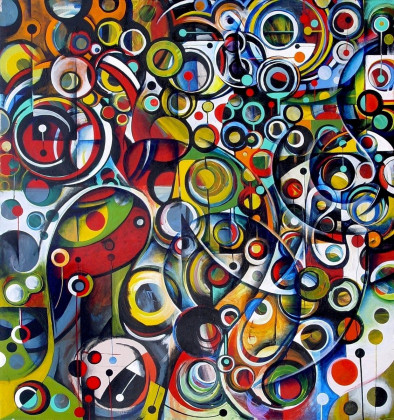 Rise of the Waterfowl by
Farmhouse Odyssey
Release date: January 5, 2016
Origin: Arcata, California
Recorded, mixed and mastered by Aaron Laughlin
Style: Djazz, Jazz Fusion, Progressive Rock, Pink Floyd
From the soft side of djent
There it is, the latest creation of these guys from California, and I'm asking myself 'Come on dude, where is the distortion?', but soon after I'm thinking it's isn't really that bad. Actually, it's awesome. Unlike other modern rock bands, Farmhouse Odyssey abandon the impact of smashing riffs and rely on something else – soft, psychadelic, chilling music. That is somehow relaxing and removes usual anxiety that most of this kind of music can throw to our brain. Definitely worth listening to, Rise of the Waterfowl might just make your day.
Check the album:
Rise of the Waterfowl by Farmhouse Odyssey
Rise of the Waterfowl will lay you back
Yes, you can sense it in every chord progression within, and it keeps flowing like water stream.  The notes somehow remind me water drops. Actually in some parts Farmhouse Odyssey may refer to Radiohead, in other to clasic funk, in others to Dream Theater, Anathema, and band very similar to them – Riverside.  They have almost the same music temper, groove, but FO are like light, positive version of this band.
Other characteristic is the positivism, that something remarkable for Farmhouse Odyssey, and rare for majority of jazz. Talking about the lack of distortion, it is not necessary, although the rock fans are expecting it to be there. Its different, catchy, interesting, very high in quality overal. Another mark of their music is hope, like the hope is always there and never gone completely, just awaits for it`s moment to come. Restless hope, that flows all over their music.
Sound
The sound of this record is full of jazz influence and progressive mixed with funk. Also, the jumpy groove is collaborating with soul elements and psychedelic rock which makes it surprising, catchy and interesting for the listener. I think Rise of the Waterfowl is the correct name for the album because you can sense the spirit of creature, which flies to the freedom of blue skies. You can imagine the feelings, excitement, which for example a young flying bird experiences, when fly out of the nest. The clean vocals are chilling and soft, surprisingly passing through different happy and sad moods.
Favorite songs: Brain Song, Shipwreck
Follow Farmhouse Odyssey:
You might also like
---
More from Reviews
---