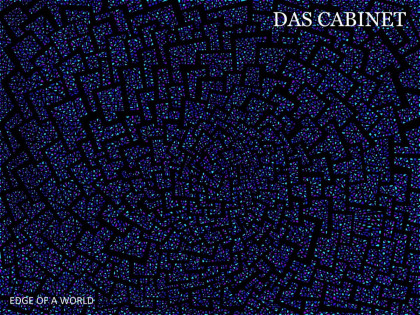 Edge Of A World by
Das Cabinet
Release Date: June 23, 2016
Origin: Germany
Style: Djent, Experimental, Psychedelic
Steve Vai inspired piece of art
Great musicians like Steve Vai and Joe Satriani have paved a way for the way music may sound. A lot of solo projects are emerging lately and some of them are really intriguing, like Das Cabinet, the showcase of talent and technique here is exquisite. Such guys achieve production with high value for the resources they have and the compositions are always very interesting. Having several releases behind, this is his best to date. If you are looking for a relaxing experience with a pinch of sci-fi, Edge Of A World may be what you are looking for.
Listen here:
[bandcamp width=100% height=120 album=1284724314 size=large bgcol=ffffff linkcol=0687f5 tracklist=false artwork=small]
'Edge Of A World' is one abstract ride.
The art world that is away from the mainstream is interesting and mostly charming, some solo projects grow and others not, but the good find ground definitely. Das Cabinet doesn't shine with a marvelous production, it is good and even exceeds the limits of DIY in some ways, but won't win the audience that is used to Sony Music' productions. What really grabs the attention is the scope of the compositions, they are complex and interesting in the same time, never bore the ear and those melodic riffs can easily transfer you to a distant place of solace. It's worth mentioning that the hard sounding instrumentals sound aggressive but not brutal at all, the balance of heaviness is well kept, there are some chugs though and they are put exactly where they should be. Ambient hits good vibes, the creativity in combination with the solos creates moments that are a pleasure to hear.
Sci-fi progressive is a bliss to hear as it turns on the dream mod, I believe that music is a complete necessity in this world, we have to make our escape from time to time and Das Cabinet gives us that. It is true that the release is a product of an experienced musician, it creates the perfect fell of an EP. А little bit incomplete, Edge Of A World sounds exactly as a prelude to something big that is coming this way, well played in that part, let's hope a Full-length release is coming soon.
Sound and Production:
When we are talking about solo projects we have to take the limited resources in consideration and I can say that here you can see the effort to produce something good. The distorted chug parts may sound a little bit over compressed at times, but do not take the pleasure of grooving, as to the melodic parts, they are quite good. Das Cabinet has managed to provide us with a well mixed guitar, that has that emotional vibe and oily sound in the solos. The bass is surprisingly nice standing and does the connection deep in the sound specter, let's give credit to the industrial moments, they really redound to the overall impression that Edge Of A World leaves.
A good EP, well balanced, doesn't weight the listener down, all is enough, repetitive behavior is absent, what more can you want.
Track List:
Zauberlehrling 07:04
Into the vortex

04:58

Canis Majoris

10:37

Edge of a world

06:27
Recommended songs: Edge Of A World, Canis Majoris
Follow Das Cabinet:
You might also like
---
More from Reviews
---