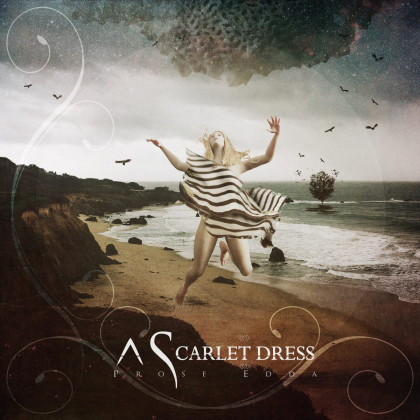 'Prose Edda' by
A Scarlet Dress
Release date: May 10, 2015
Origin: India
Style: Djent, Progressive, Metalcore
The Indian prog scene is growing
What we have here is not groundbreaking, but it is definitely good and worth to listen. We all know Skyharbour that leads the djent scene in India, but A Scarlet Dress is exactly what we are looking for in any rapidly developing metal/djent scene right now – their production is stellar, the music is melodic, brutal, well recorded and the riffs are awesome. 'Prose Edda' is one charming effort the display technical skill, sense for music and composition, it got me hooked recently and I can simply tell you "Play that shit now!".
Listen here:
'Prose Edda' is a very generous effort
The moment you say "Guys with future", while listening to a small band is breaking all your perspectives about the modern music industry. What I would say is that right now, the artist crush us with amazing music, from everywhere, especially bands from spiritual nations like the Indian. A Scarlet Dress will remind you of a couple of renowned big names like Erra, After The Burial etc., but they have managed to stay away in a perfectly matter and invest time and energy in their unique approach.
From a technical point of view, the performance is flawless and the songs were composed with a structure that will make you come back and back again to that EP. 'Prose Edda' emplies female vocals that just touch the inside of your soul, not to mention they have produced all by their own.
Sound
The mix is outstanding, the sound is outrageously good, one of the best DYI records I have ever heard. A really good production here, the vocals are harsh and brutal, until the cleans start, which are also just amazing. And now the instrumental – the guitars are chuggy, clean, crisp… you got it all. Not to mention that the ambient moments give me shivers, the female vocals in that combination are extremely emotional and seriously, well put. What I also liked are the klaviers, the piano relaxes the senses and the synths are there to deliver the full body of the vibe.
Awesome EP and awesome sound, what more can you want, buy it.
Recommended songs: Pulse, Lucid
Follow A Scarlet Dress:
You might also like
---
More from Reviews
---