Triad by
Groundburst
Origin: Ireland
The Irish lads I am about to present have been around for quite some time now, but now they're jumping out with an expanded roster and a double punch – first, the EP I am about to make the focus of this article, and secondly, a promised full length that should come out somewhere in 2018.
They were kind enough to get in touch with me and have me pleasantly surprised with Triad, a silent storm of flavors, putting a fresh coat of paint on "math rock", as us boring-as-ever-and-trying-to-label-everything journalists like to call it. Read away.
Listen here:
Triad is made up of a trio of tracks that present newcomers to the band with what they're capable of,

And it does so wonderfully. The opening track "Law of Fives" starts off with a clean cut, rhytmic riff that easily finds its way to the back of the skull. Soon enough it's already expanded on the main melody with added instrumental melodies and you find yourself humming along by the time the dramatic piano comes out. I listened to Triad a total of three times – once completely as background music, secondly while cleaning my room and finally as I am writing up this article. Apart from obviously trying to roll with the symbolism, I soon realized that this is truly the magic number when it comes to finding out whether a record will grow on you or not and Triad is definitely the former. The opening track is definitely more of a "banger" than the second one, but "Parlour Games"' synthiness is absolutely addictive. What I can say more about is the final part of the trio – "Mazomba". It starts off with an alarming build up and soon jumps out to be quite the rocker. This is definitely the side of Groundburst I can get used to seeing more often – the uncompromising guitar chugs and the in-your-face attitude. There is more where this came from, of course. I gave the band's 2009 EP a listen and wasn't disappointed. It's a tad more mellow than Triad, but the skill and the band's signature are there.
Sound and Production:
Clean and to the point. The band obviously knows how to translate its ideas to the recording studio and it shows. I listened to the Spotify streamable version and I was very pleased with the way every instrument sounded. The band also offers the record on Bandcamp (as linked above) for as little as 2,50 euros. Go get it.
---
Now, for a short interview/bio, since this is the first time we're presenting this band
Who's in the band?
Phil: I play guitar, Erik plays drums and Si plays keys and synths. Si and I are brothers and have played together as Groundburst for quite some time now but this is the first release with Erik.
Tell us about your musical backgrounds.
Si: We all played in bands for years, including rock, funk and electronic music outfits. In terms of formal training, I was classically trained in piano and studied music theory in school. Phil is mainly self-taught on the guitar with some jazz training. We both now play in a Javanese Gamelan ensemble, so are learning a lot of different rhythms and techniques there at the moment. Erik studied a bit but is also mainly self-taught, as far as I know.
How would you describe your music?
Si: We play instrumental rock music. I guess the main features of our sound are odd rhythms, a varied sonic palette and lyrical melodies. It's kind of hard to define it more specifically than that, I think, as we each bring a range of different influences in to the band, like metal, funk, jazz, soundtrack music, electronic music, modern classical music and prog.
What were you going for with this EP?
Si: This EP is very focused on the rhythmic end of our sound. We called it Triad for a number of reasons. There are three tunes, each of which was mainly written by one of the three different band members. The structure of the tunes also loosely follows Hegel's philosophical triad of thesis, antithesis and synthesis; there's an opening statement by Phil, a tune that embodies a deconstruction of that sort of an idea by me, and another which is really a synthesis of ideas from each of us (although mainly written by Erik).
Tell me a little bit more about each tune.
Phil:  The opening tune on the ep, "Law of Fives" is based around a groove in 23/8 time. I first came up with the rhythm by tapping a coin off a steel banister rail in the stairwell at my work. I liked the insistent, hypnotic feel to it, so I wrote down the rhythm and developed the riffs while away on holiday.
The middle section came later and works as a darker foil to the more upbeat sound of the first half. It has the most Djent sound of the EP, combining 7 string guitar and bass piano stabs to punch the rhythm through to a very tense crescendo. Simon added some awesomely vicious piano tremolo at this point that really added to the intensity and followed through into the section after it.

The name Law of Fives, comes from the Discordian theory that:

"All things happen in fives, or are divisable by or multiples of five, or are somehow directly or indirectly appropriate to 5. The Law of Fives is never wrong."
In essence, the Law of Fives is an example of how, the harder you look for something, the more often you will see it. In applying the Law of Fives, the number 23 is equal to 5 because 2 + 3 = 5. In the context of the tune, the main riff is in 23, so it was an immediate and easy fit. This approach obviously makes no mathematical sense, but it amused me greatly. There is a great sense of humour and tongue-in-cheekness in the application of the Law of Fives and I really got into playing around with it.
One of the features of the Law of Fives in the Discordian sense, is reducing complex things to 5 (ie simpler). One of the challenges of the tune was taking something that was rhythmically complex and trying to make it catchy or simple enough that it was hummable.
Si: "Parlour Games" is sort of a foil to that kind of playful theorizing. My day job involves research in psychology and I started writing this tune during a period when I was very frustrated in the middle of a project that involved applying theoretical ideas to qualitative phenomena in ways that just didn't seem to work. I decided to try to represent that idea of forcing something rigid over something organic in a tune by taking a very lyrical melody and applying a rigid form across its development in the composition; the time changes are structured across the tune in a palindrome with various rhythmic and musical palindromes within that structure.
Musically, it's more dynamic than the other tunes with quite a mellow intro and outro but it's pretty insistent when it gets going. When we worked out the arrangement, the other guys contributed some great stuff that really brought it to life. Phil brought in that real 50's sounding guitar stuff near the start and that lovely Peter Green-esque guitar stuff near the end and Erik got together some great drum and bass and funk breaks in the middle.
As for "Mazomba"; Erik brought in a demo of that tune complete with the main riff and intro section written in a very precise way. We each fleshed out the original material quite organically, so it really represents ideas from all of us. "Mazomba" is named after a group of mythical wise fish from African mythology who act as spiritual guides to a woman in distress after she mistakenly drowned her daughter. I think you can hear a strong Tool influence in that main riff; we also added a few different twists and turns to it that take it in a few different directions. It's the one with solos as well! There's a burning one from Phil in the middle and one that I added to the end after a heavy period of obsessing with Miles Davis' minimal soloing.
What else have you been listening to recently?
Phil: I've been listening to a lot of Red-era King Crimson again recently. I think that comes across on this release in Law of Fives, particularly. Carcass, Meshuggah and Tool were also big influences on me growing up. Carcass's Necroticism album is still one of my all-time favourites and I still listen to it a lot. They were so out there, and so heavy.
And I've been listening to a lot of doom/stoner metal recently. Bands like the Heavy Eyes, Goblin Cock, Pigs x 7, and some of Boris' more doom-y stuff. I think that may have influenced my sound on "Mazomba" a bit.
The other lads in the band are a big influence too, especially Simon. We've been writing together and around each other for ages now and we are always pushing each other in interesting new directions, both by what we try and get the other to do during the arrangement process and just by coming at things with completely different approaches.
Si: Yeah, those different approaches really work as a strength of the band, I think. Phil brings a great sense of texture and exploration of different sounds and I am often very focused on structure and parsing out rhythms. I think I've become much more tuned in to looking for different sounds over time after working with him… and when I started to mess around with synths! Recently, I've been listening to a lot of Secret Chiefs 3, the Necks and the recent album from our friends Trails.
What next for you guys after this?
Phil: We're currently finishing recording an album that will be out in 2018. It's going to be called Vortex Street and we're about 80% through recording it. The album will mainly feature longer songs than the EP. Some of the songs have longer intros and take their time to develop. It's on a grander scale than the EP, with more instrumentation /orchestration. It has some even more complex rhythmical stuff but also more free form tunes. Some of it is almost ambient but there are a couple of very heavy tunes too.


The EP, mentioned above:

Follow Groundburst:



You might also like
---
More from Interviews
---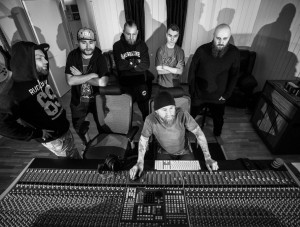 479
Interview with Ninja SyndromRapcore-djent band from Poland, Ninja Syndrom combine an amount of styles in their music. They have released …